Cat Towers

If you're a cat owner who's tired of replacing cat scratched furniture, cat towers may be the perfect solution for you.
It's not so cute when your furry friends scratch and jump on your favorite furniture – and these towers provide an alternate, more appropriate place for your cat to play, climb and sharpen their nails.
The towers are irresistible because they have ceiling-high perches and climbing is a game all cats love to play. They are happy up high away from other animals or children and it won't take long before they forget about your furniture and make their towers their own personal hangouts.

They come in many designs to suit even the most finicky customer. Typically, these cat playgrounds have high perches that allow your cat to be the confident, natural climber that he was born to be.
Different Styles of Cat Towers
Cat Climbers

Cat climbers are interesting because they mount onto most standard doors if space is limited. Feline behaviorist Carole Wilbourn says The Cozy Climber
will satisfy your cat's natural curiosity to climb high and is a fun source of exercise for indoor cats. It has five feet of vertical fun and five play levels. At the top is a privacy parlor with a comfortable pad for catnaps.
The SmartCat Climber is another tower that mounts onto any door in your home up to 80 inches high. It has a spring loaded bracket system making installation or relocation easy for you and your cat. These are ideal places for your cat to scratch, play, sleep, and exercise safely and happily.
Cat Houses

Cathouses offer multiple beds and cradles to keep kitty happy and entertained. A 4 Level Cat House is a large playground for big kitties or multiple cats. It has plenty of places to leap and nap but it also features a tunnel for endless hours of peek-a-boo.
A solid pine pole is wrapped in all-natural sisal rope so kitty can scratch on his furniture and not yours. It is 90 inches high and comes in multiple colors. The Cat Skyscraper is also perfect for multiple cats. The tower features two cradles, a bed, a tunnel and is topped with a mini-house. It also has the all-important scratching post.
Cat Climbing Tower

Cat jungle gyms feature dangling toys, scratching posts, and multiple levels providing kitty with extra mental stimulation.
The Cat Power Tower has three unique levels. The bottom level has round holes in the base where kitty can stalk and hunt toys.
The middle level has two scratching posts and the top level features a bird carousel.
It is made from solid hardwood and stands 72 inches high.
Cat Playpens
Cat playpens are a perfect way to let your cat play outside without wandering onto the neighbor's roof or getting into other sticky situations. An outdoor cat enclosure like this Kittywalk Town & Country has a shade awning and hammocks and an outdoor penthouse for active cats.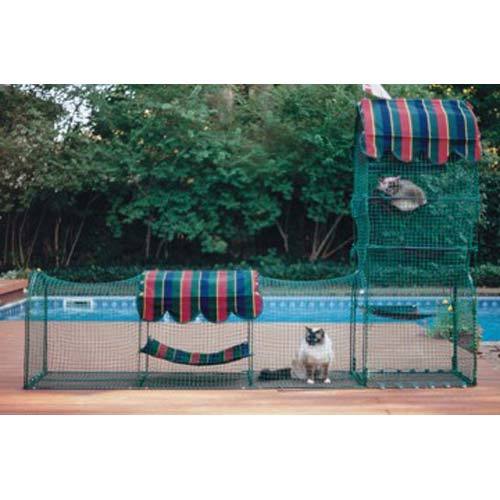 All you need is a flat surface and kitty will be safe and comfortable. The playpen can be put together in different ways and stands over five feet tall so kitty can access all three hammocks.
Cat Window Perches

Cat perches offer cats what they love most, a place to nap in the sun.
You & Me Scout & Snooze Window Cat Perch


Cat Ramps

Cat ramps are similar to cat trees because they give cats a high perch and their very own place to play and relax.
A Wood Run cat ramp easily mounts onto any wall, the higher the better. It has a carpeted top great for climbing, running, jumping or snoozing. Two or more cat ramps can be mounted together creating a cat run.
Several ramps going up and around a wall will give your cat a lofty playground.
So if you ever wanted to know why you should get furniture for your loveable kitties the reasons are clear. Cat playgrounds speak to a cat's natural instincts to run, jump, play, scratch, hunt, and of course sleep.
Your cat will thank you in his own way, most likely by returning your unconditional love and affection.
There are many types of cat towers for your feline friend to play on. The bigger the cat towers are the more fun they will have.
Where To Now

Connect With Us