Kittywalk
Outdoor Enclosures

For declawed or debilitated cats that cannot roam safely outside, Kittywalk Systems, Incorporated provides a variety of outdoor pet enclosures, as well as indoor equipment for play and exercise purposes.
Started in 2001 by Lise and Jeff King, the company offers nearly 50 different products for cats and dogs that contribute to their physical and cognitive health and comfort.
Outdoor tunnels are sectional and made with collapsible netting to allow kitties to experience the sights and smells of the outdoors without owners worrying about their safety.
Products stamped with this name have won several pet industry awards for innovation and design.
Featured on popular television shows like The CBS Early Show, the National Geographic Network and The Today Show, these unique exercise enclosures have customers from as far away as Australia, China and Norway.
Cats Need Exercise
All cats should have regular exposure to the outdoors and adequate exercise, even those who have been raised indoors since birth.
Because they are instinctual predators, cats sleep a lot, about 18 hours a day, and tend to exhibit short, intense bursts of energy when they are stalking, preying on other creatures, climbing trees and playing with attractive objects
Unless cats receive enough exercise, they may become obese and develop the same kinds of diseases from which humans suffer when overweight.
Heart, liver and kidney disorders, as well as diabetes and arthritis can strike a cat that does not exercise.
Cats do not need sunlight to produce vitamin D but require good quality food in order to get enough vitamin D. Sunlight cannot penetrate a cat's fur anyway, regardless of the length of the cat's coat.
However, a cat loves nothing better, except maybe the occasional sprinkle of catnip, than to take a long, afternoon nap in the sun. Providing him with outdoor cat enclosures can keep your indoor or declawed cat healthy, happy and safe.
Kittywalk Outdoor Pet Enclosures

Outdoor Cat Run
Created from strong but flexible fishnet that has been woven onto steel hoop wickets, the sectional outdoor pet enclosures are easily staked into the ground to give your cat the freedom to walk around, breathe in the fresh air, watch the fascinating antics of birds and bask in the sunshine without fear of injury from other animals or environmental dangers.
Features of these enclosures include:
Two doors for easy access at both ends of the enclosure
Specially made "rip-stop" fishnet material so kitty cannot escape
Takes only a few minutes to set up, no assembly required
Causes no harm to sod or grass
Additional sections can be added to make the enclosure as large as you want
Comes with storage and travel bag
Penthouse Outdoor Enclosure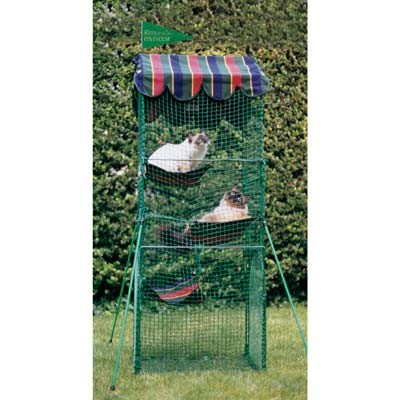 Penthouse
For use with other components or as a playground by itself, this penthouse stands five feet tall and is two feet in width, with a depth of 18 inches that gives your cat twenty cubic feet in which to romp or nap in the sun.
Also included with the Penthouse are three waterproof hammocks that are large enough to comfortably hold three large cats.
Four solid steel poles provide secure stabilization of the Penthouse when staked outside in your backyard.
Setting up this outdoor enclosure takes less than five minutes, with transportation of the Penthouse facilitated by easily folding it into the size of a small chair and placing it inside the carrying bag.
Other handy products offered by Kittywalk include pet strollers equipped with flashing safety lights and safety brakes, indoor kitty climbers and closet sleepers for cats that love to sleep in the closet.
For more Kittywalk areas, check them out at
123stores.com
Where To Now

Connect With Us